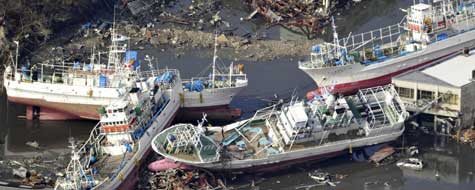 The New York Times published an article this morning, The Destructive Power of Water, where it compares the force of a ten meter high tsunami wave to "a hundred tanks coming across you. Even though it's a fluid, it operates like a solid hammer."    Fortunately, Japan has some of the strictest building codes in the world, specifically intended to save lives during earthquakes. Nothing, however can withstand the force of a tsunami.

As reported by the Huffington Post: At least 1.4 million households had gone without water since the quake, and food and gasoline were quickly running out across the region. Large areas of the countryside were surrounded by water and unreachable. Some 2 million households were without electricity. In addition to the horrible destruction of property along  two thirds of the Japanese East coast, the town of Minami Sanriku, was virtually swept away by the wall of water.
Of the 17,000 residents that call this tourism magnet home, more than 10,000 remain missing, feared dead. They were the first to feel the force of the tsunami, given their homes sit just 80km west of the 8.9-magnitude quake's epicentre. It was a direct hit, as quick as it was devastating.
Also directly in the tsunami's path were two nuclear power plants, Fukushima Daiichi and Fukushima Daini.     They were both designed to withstand an earthquake.  If an earthquake knocked out their electrical supply, they had backup generators to keep the pumps working and the cooling water flowing.  Ina one two punch, the earthquake took out their power supply, and the tsunami destroyed their backup generators and their entire electrical service.   As the water boiled off  at Reactor 1 at Fukushima Daiichi, melting fuel rods released hydrogen which built up in the outer concrete containment  vessel. The hydrogen exploded blowing off the top and part of the side of the concrete enclosure.  Fortunately the inner steel containment vessel remained intact.  Now reports are that Reactor No. 3 at Fukushima Daini may also be experiencing the same sort of partial meltdown as that experienced at Fukushima Daiichi No. 1.
Japan: Partial meltdowns presumed at crippled nuclear reactors
Japanese officials struggled on Sunday to contain a widening nuclear crisis in the aftermath of a devastating earthquake and tsunami, saying they presumed that partial meltdowns had occurred at two crippled reactors and that they were bracing for a second explosion, even as they faced serious cooling problems at four more reactors.