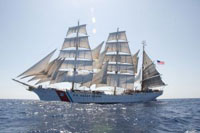 The US Coast Guard Barque Eagle,  built  in Hamburg, Germany, in 1936, arrived in Philadelphia on Friday, on the first stop of her 75th anniversary tour.
The tall ship Eagle has landed _ in Philadelphia

The three-mast barque-rigged cutter was ushered up the Delaware River at low tide by an entourage that included the Philadelphia Fire Boat Independence and two Moran tug boats. Both the USS New Jersey, from Camden, and the USS Olympia, from Philadelphia, issued gun salutes that the Eagle returned.
The tall ship's anniversary tour includes a visit to its birthplace in the German port city of Hamburg, where the 295-foot-long cutter, originally the Horst Wessel, was built in 1936.
The U.S. recommissioned the vessel in May 1946 after it was claimed as a war reparation from Germany. About 230 Coast Guard Academy cadets, over the course of two sessions, will undergo training aboard it.
Two of the original crew members of that post-World War II voyage, Horst Boettge and Emil Babish, will attend an evening reception hosted by the Coast Guard Foundation at the Seaport Museum later Friday.