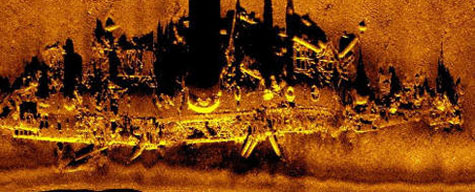 The German submarine U-106 was believed to have hit a British mine when it sank on October 7, 1917 off the coast of the Netherlands.
WWI submarine found off Dutch coast

A German submarine from World War I has been discovered off the north coast of the Netherlands, where it sank in 1917, and will become an official war grave, the Royal Dutch Navy said Wednesday.
The U-106 was discovered in the North Sea, north of the Dutch island of Terschelling, in October 2009 by a Dutch naval ship mapping the sea floor, the navy said in a statement.
The find was not announced earlier because the German government needed time to find and inform the next-of-kin of the 41 crew who sank with the boat.
The submarine of 838 tonnes, 71.5 metres (234 feet) long, took to the water for the first time in July 1917, commanded by "Kapitänleutnant" Hans Hufnagel, fresh from submarine school.