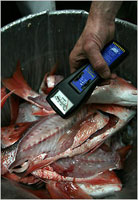 My wife and I are celebrating our 25th wedding anniversary in a week by having dinner at Le Bernardin.  I had proposed in the Le Bernardin, when the restaurant was still in Paris, so it has always seemed a great place to celebrate anniversaries.  What does this have to do with radiation?   The New York Times recently reported:
"Eric Ripert, the chef of Le Bernardin, the high temple of seafood in Manhattan, bought a new kitchen gadget a few days ago: a radiation detector.

"I just want to make sure whatever we use is safe," said Mr. Ripert, whose staff is using the device to screen every item of food that enters the restaurant, regardless of its origin. He has also stopped buying fish from Japan, which means no high-quality, farm-raised hamachi and kampachi for raw seafood dishes.
"Nobody knows how the currents will carry the contaminated water," he said.
Despite assurances by health officials that radiation from the stricken Fukushima Daiichi nuclear power plant in Japan is unlikely to show up in the food supply, worries about contaminated foods are growing among consumers, businesses and governments across the globe.
Does the continuing crisis at the Fukushima nuclear power plants in  Japan  pose a threat to ocean life and seafood?  The best answer is probably that no one knows. Nevertheless, most experts are of the opinion that the threat is quite low.    All the same, the FDA has begun scanning seafood imported from Japan for radiation.  Less than 1 percent of the total fish Americans consume comes from Japan, according to the U.S. Department of Commerce.