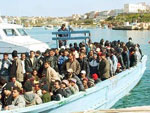 A boat overloaded with migrants sailing from Libya capsized south south of the island of Lampedusa , off Sicily, early today.   Fifteen are confirmed dead and between 130 and 250 are believed to be missing.
Migrant boat sinks off Italy, up to 250 missing

While the ongoing civil war in Libya has accelerated migration, this route from North Africa to Southern Europe is busy and treacherous under any circumstances.   Two years ago, another overloaded craft sank killing over 200 not far from the Libyan coast.
Death toll tops 200 after migrant boat sinks
Thousands of African, Asian and Middle Eastern migrants fleeing wars and poverty use Libya and other North African countries as launching pads for the dangerous journey across the Mediterranean to southern Europe — often in rickety, overloaded boats.
Hundreds are believed to die in the journey each year. The route between Libya to an island off the coast of southern Italy is one of the most heavily traveled for illegal migrants trying to reach Europe.