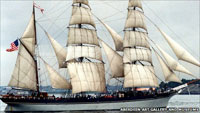 The Tall Ship Elissa was built was built in Aberdeen, Scotland in 1877 by Alexander Hall and Co. She has been fully restored and is currently sailing out of Galveston, Texas. She recently successfully completed drydocking and inspection.  A small piece of the ship will be involved in another docking, this time in space.  US astronaut Catherine Coleman, a friend of the Galveston Historical Foundation, agreed to take a piece of deck planking from the Elissa on her current mission to the International Space Station.  When the astronaut returns in May of this year, she will leave the Elissa's plank  aboard the station.
Aberdeen-built tall ship on International Space Station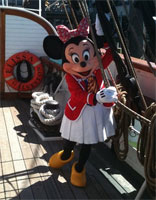 In other news related to the Elissa we were disturbed to see and apparent rodent problem aboard the ship.  Rodents have been stowing away on ships for all of time. This one however appeared to be invited.
From the Elissa Facebook page: On April 5th, 2011, ELISSA had a very special visitor! Minnie Mouse was onboard as part of a promotion for Disney Cruise Lines.
We hope that they keep a weather eye out for Steamboat Mickey.  He is trouble.
Thanks to Phil Leon for passing the article about the International Space Station along.