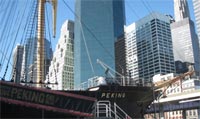 New York and Philadelphia are major ports and centers of art and culture.  By all rights both should be home for major and successful seaport museums. Sadly that is not the case. Last month we posted about the Independence Seaport Museum in Philadelphia putting the Cruiser Olympia up for sale.  After years of neglect, museum mismanagement and corruption (a former museum president is now serving hard time in Federal prison for fraud and tax evasion), the museum lacks the money to repair the historic ship or even to scrap her.   Now,  the financially troubled South Street Seaport in New York is looking to get rid of its historic vessels on a temporary or permanent basis.
Seaport Museum Seeks Berths for Vessels

The Seaport Museum New York is in talks with various maritime centers about taking its working vessels on a temporary or permanent basis to help defer costs. The museum — at 12 Fulton Street and formerly named the South Street Seaport Museum — is struggling financially, and in February it furloughed 32 employees, half of the staff.