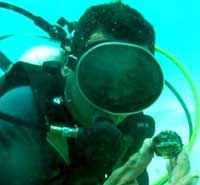 Divers from Deep Blue Marine have located a wreck site off the Dominican Republic believed to date back to the 1500s and have uncovered a treasure of silver coins and jade figurines.
'We've just scratched the surface': Divers find 'oldest shipwreck in the Caribbean'…. and treasure that could be worth MILLIONS
A chance encounter with a fisherman has led one team of treasure hunters to discover what they believe is the oldest shipwreck in the Caribbean.

At the last count Captain Billy Rawson and his crew had uncovered 700 silver coins that could be worth millions, jade figurines and even a mirrored stone that was possibly used in Shamanic rituals.
They had been surveying 42 miles of coastline with high-tech equipment in an effort to find the wreck.
But they got lucky after the chance encounter with a local fisherman who sold them an old coin he had found while diving.

To their astonishment the team discovered it was one of the oldest coins ever minted and knew they had found what they were looking for.
'We said to this guy: "If you show us where you found the coin you can come and work for us",' said Mr Champion.
The team are planning another dive in two weeks but it is a gruelling process as the wreck is covered in sand and coral.

It takes them 12 hours to sail around the island to the dive site. They then drop anchor and take smaller boats out to dive from.
Thanks to Irwin Bryan for the passing the news along.