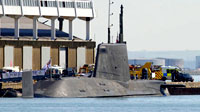 Reports now indicate that Ryan Donovan, 22,  a sailor on HMS Astute, burst into the submarine control room and opened fire with an SA80 assault rifle yesterday, killing the ship's weapons engineering officer, Lt. Cmdr. Ian Molyneux, 36, and wounding a second officer, Lieutenant Commander Chris Hodge.   The shooting took place during a tour of the submarine by the Southhampton City Council.   The leader of the Southampton Council, Royston Smith, reportedly wrestled the rifle away from the shooter.  Southhampton Mayor,  Carol Cunio, said she helped stanch blood flowing from Lieutenant Commander Hodge, who had been shot below the ribs on his right side.   Lieutenant Commander Hodge is reported to be stable condition.
Senior officer killed in UK nuclear sub shooting

The motive for the shooting remains unclear, though it is suggested that back to back deployments and the cancellation of shore may have motivated the shooting.    Other reports published in Britain quoted crewmen as saying it followed a dispute over the use of a submarine toilet.
British submarine shooting 'sparked by shore leave dispute'
Thanks to Phil Leon and Irwin Bryan for passing articles along.