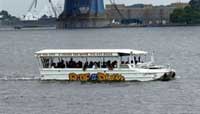 The Ducks have returned to the Delaware River.   Not mallards, but duck boats. Last July a tug pushing a barge ran down a disabled "Duck boat" DUKW 34 at anchor in the Delaware River off Philadelphia. Two of the 35 passengers on the duck boat drowned in the collision.   The mate on the tug was apparently talking to his mother on a cell phone during the collision.  The duck boats have now been allowed back on the river under a new set of safety rules.
Duck boats to make return to Delaware River

Among other changes, the water route for the amphibious tour boats has been shortened from 30 minutes to 10 minutes. Also, duck boats are to stay close to shore, and are not to enter the water if any large vessel is within a mile of the entry point.
Duck boats have been banned from operations since a July 7 accident that killed two passengers and injured 26 others. The Coast Guard approved the boats' return in August, but the city withheld its OK until Tuesday.