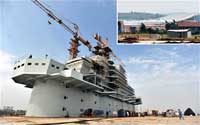 As we posted last week, the US Navy has five times more aircraft carrier flight deck capacity than the rest of the world combined.   Nevertheless the Chinese have leapt ahead in the construction of a concrete air craft carrier on a government building roof top.  What strategic advantage that might provide remains unclear.
Concrete evidence of China's naval ambitions

China has secretly built a concrete aircraft carrier for pilot training as part of its military build-up, intelligence sources have disclosed.
The large concrete structure, complete with a bridge, landing deck and ski ramp take-off platform has been constructed far inland near the city of Wuhan.
The "carrier" will allow Chinese navy pilots to practise landing approaches and train ground crew.
It is unclear whether planes have actually taken off or landed on the structure, but secretly taken pictures have shown what appears to be a Su-33 Flanker strike jet and naval helicopters on the flight deck.
Intelligence reports have dismissed the idea that it could be a theme park because it has been built on the roof of a government building. They believe it signals China's intent to become a global "blue water" naval force and is a direct challenge to America's supremacy in the Pacific.
Thanks to Alaric Bond for passing the story along.