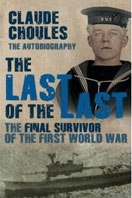 In March we posted about the birthday of Claude Choules, the last combat veteran of World War I.   He has now died  in Perth, Australia at age 110.
Last WWI combat veteran Claude Choules dies aged 110
The world's last known combat veteran of World War I, Claude Choules, has died in Australia aged 110.
Known to his comrades as Chuckles, British-born Mr Choules joined the Royal Navy at 15 and went on to serve on HMS Revenge.

He moved to Australia in the 1920s and served in the military until 1956.
Mr Choules, who had been married to his wife Ethel for 76 years, was reported to have died in his sleep at a nursing home in his adopted city of Perth.  He is survived by three children and 11 grandchildren. His wife died three years ago.
Mr Choules' 84-year-old daughter, Daphne Edinger, told the Associated Press news agency: "We all loved him. It's going to be sad to think of him not being here any longer, but that's the way things go."
Despite his military record, Mr Choules became a pacifist. He was known to have disagreed with the celebration of Australia's most important war memorial holiday, Anzac Day, and refused to march in the annual commemoration parades.
He took a creative writing course at the age of 80 and recorded his memoirs for his family. They formed the basis of the autobiography, The Last of the Last, which was published in 2009.
The last three WWI veterans living in Britain – Bill Stone, Henry Allingham and Harry Patch – all died in 2009.
Another Briton, Florence Green – who turned 110 in February and was a waitress in the Women's Royal Air Force – is now thought to be the world's last known surviving service member of WWI. An American veteran, Frank Buckles, died earlier this year.
Thanks to Alaric Bond for the passing along the story.