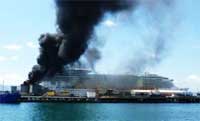 An explosion in a fuel tank on  the  cruise ship docks in Gibraltar today injured several on the dock and over twelve passengers on the 3,634-passenger Royal Caribbean   cruise  ship,  Independence of the Seas.  The injuries to passengers were all reported to be minor.
Explosion, fire in Gibraltar fuel tank, two injured

The blast was probably caused by a spark from welding operations although police were not ruling out any possibility including that of an attack, Chief Minister Peter Caruana told Radio Gibraltar.
Flames several metres high could be seen coming out of the tank, which contained diesel to refuel ships, with dense black smoke billowing across the port as firefighters directed jets of water at the blaze from tugboats.
The tank was close to the giant cruise ship Independence of the Seas which had arrived in Gibraltar Tuesday morning.
The ship made an emergency departure immediately after the blast Tuesday afternoon and no injuries or damage were reported on the vessel.
"The lid of the tank was blown off by the blast," a police spokesman said. "Two people were injured, one very seriously."
Explosion next to Royal Caribbean ship injures passengers
An explosion today near a Royal Caribbean cruise ship visiting Gibraltar has left several passengers injured.
A short statement from Royal Caribbean says the 3,634-passenger Independence of the Seas was alongside a pier at the port of Gibraltar when the incident occurred, and 10 passengers have received medical treatment on board the vessel.
UPDATE, Tuesday, 5:40 PM ET: Royal Caribbean says the number of Independence of the Seas passengers who have received medical treatment aboard the ship in the wake of today's incident has risen to 12.
Thanks to Dick Bal for passing the news along.