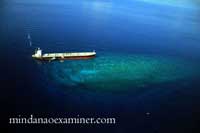 The perhaps poorly named MV Double Prosperity, loaded with  65,000 tons of coal, grounded on Bakud Reef on Sunday in Sarangani Bay in the Philippines.
Stranded ship threatens Philippine reef

A foreign cargo ship is stranded on a protected coral reef in the southern Philippines and may be stuck for three weeks, raising fears of environmental damage, authorities said on Thursday.
The Panamanian-registered MV Double Prosperity was carrying about 65,000 tonnes of coal from Australia to India when it hit Bakud Reef on Sunday, regional coast guard commander Roy Echeverria told AFP.
About three-quarters of the 225-metre-long (743-foot-long) ship is stuck on the reef and it is lying in barely two metres of water, making the task of refloating it very difficult, he said.
"Weather permitting… the ship may be extricated within more or less three weeks," he said, adding it would also take time to bring in specialist equipment.
Echeverria said there were concerns the ship's fuel may start leaking, and inflatable oil spill booms had been brought into the area as a precaution, although there were no signs this had yet occurred.