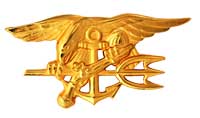 Last week we posted about Disney filing  three trademark applications for the rights to the phrase "SEAL Team 6."   Proving that they are only a step or two behind Mickey Mouse, the US Navy has now trademarked the phrases "NAVY SEALS" and "SEAL TEAM."
Claiming What's Theirs: Navy Files Trademarks for 'SEAL TEAM' and 'NAVY SEALS'

The Navy will now have the exclusive rights to their name – well, at least one iteration of it – for use on goods. But because they struck so late, trademarks on other versions (and yes, capitalization does matter) have already been snapped up. "SEAL TEAM 6" and "NAVY SEAL" are trademarked by watchmaker Resco. While not having a trademark doesn't forbid the Navy from using their own name, it would legally prevent them from producing goods with any form of the name registered to another owner.
While we don't anticipate any form of the "SEAL Team 6″ joining the Navy's trademark repertoire, we're pleased to see the Navy claiming imminent domain where it counts.