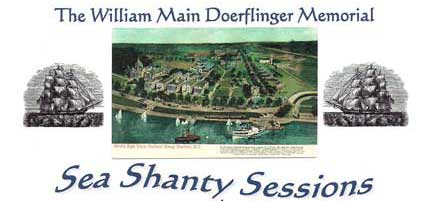 This Sunday, May 15, from 2 to 5 PM, the first monthly  William Main Doerflinger Memorial Sea Shanty Session will be held at the Noble Maritime Collection at the Snug Harbor Cultural Center at 1000 Richmond Terrace, building D, in Staten Island New York.

Back in 1995, a group of folks who love the songs of the sea got together on the historic ship Peking to sing sea shanties.  For the next fifteen plus years, the group got together every month.  For many years, the sea shanty sessions were held at the Seaman's Church Institute at 241 Water Street, near South Street Seaport,  until the church sold the building and moved out of New York City last October.
Now the shanty sessions are being restarted with a new name and at a fitting new location.   Named in honor of the dean of maritime music scholars, Bill Doerflinger,  the shanty sessions will be held at the Noble Maritime Collection at the Snug Harbor Cultural Center.
Doerflinger was an archivist, a writer and a collector of sea and work songs.   In 1951, he published Shantymen and Shantyboys; (later re-released as Songs of the Sailor and Lumberman.) Many of the songs in Shantymen and Shantyboys were collected from retired seamen living in New York City at Sailors' Snug Harbor on Staten Island.  We have previously posted about one of the sea shanties collected by  Bill Doerflinger at Sailor's Snug Harbor - The Leaving of Liverpool.
Sailor's Snug Harbor was a retirement home for destitute sailors founded by the 1801 bequest of New York tycoon Captain Robert Richard Randall.  It opened in 1833 along the Kill Van Kull on the north shore of Staten Island in New York City.  Captain Thomas Melville, a retired sea captain and brother of Moby-Dick author Herman Melville, was governor of Snug Harbor from 1867 to 1884.