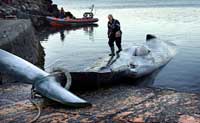 Time recently posted an article "Why Fukushima Is Good for Whales (in Iceland)." The article,  in fact, had almost nothing to do with the damaged nuclear power plants at Fukushima (at least as applied to whales) and quite a lot to do with the damage done by the tsunami.  Iceland exports the meat of endangered fin whales to Japan.  Tsunami damage  to whale processing plants in Japan may delay the start of the Icelandic whaling season.   The Time article reports that the Icelandic whaling season has been "called off" while other sources say that it has been postponed or delayed.

Japan is the biggest consumer of Iceland's fin whale meat, and three of the facilities that process Icelandic whale meat were destroyed in the March 11 disasters, according to the owner of Iceland's primary whaling company, Hvalur. According to Iceland Review, Kristjan Loftsson recently went to Japan to assess the situation, and returned saying because of the destroyed facilities and the general mood of austerity in Japan, his company's fin whale hunt would not begin in June as it normally does. He said it may start later in the summer. Hvalur employs up to 150 people in the summer during whaling season. Fin whales can grow to be nearly 90 feet long and are listed as endangered by the International Union for Conservation of Nature (IUCN).
Despite all the noise and nonsense associated with the Sea Shepherd's Reality TV Show attacks on Japanese whaling, the Japanese whalers hunt almost exclusively minke whales, one of the few species of whales which is not considered to be endangered.  Iceland on the other hand has been hunting and killing fin whales, which are indeed endangered.
Why are the Sea Shepherd's harassing the  Japanese, who are hunting non-endangered minke whales, but ignoring the Icelanders, who are hunting endangered fin whales?  Paul Watson brags about sinking Icelandic whaling boats and would probably be arrested if he ventured into Icelandic waters.