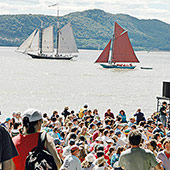 This will be  busy weekend around the Hudson River and New York harbor.     At Croton Point Park,  on the east bank of the Hudson River, just north of New York City, the Clearwater's Great Hudson River Revival – a Music and Environmental Festival will be held on Saturday and Sunday, June 18th and 19th. The festival will be a virtual riverside Woodstock, featuring, by my count, over fifty different artists and bands, including Pete Seeger, Martin Sexton, the Indigo Girls, Arlo Guthrie, Josh Ritter, Suzanne Vega, Dar Williams, David Bromberg,  Peter Yarrow,  John Sebastian,  Janis Ian, Lucy Kaplansky, John Gorka, Eliza Gilkyson, The Klezmatics, Tom Chapin and many many more.  In addition to music there will be losts of activities, exhibits and sales on the Hudson River sloop, Clearwater.

For something a touch wilder, the 28th annual Coney Island Mermaid Parade kicks off this Saturday, June 18, 2011 at 2pm. More than a thousand mermaids, sea gods, and ocean creatures will march down West 21st Street and Surf Avenue, alongside floats and antique cars, all the way to the Coney Island boardwalk in celebration of the impending summer. Should be a good time, although the Gothamist is of the opinion that this year's Mermaid Parade King & Queen are "Not As Cool As Last Year."
For the slightly more sedate Sunday, the second William Main Doerflinger Memorial Shanty Session will be held  at the Noble Maritime Collection at the Snug Harbor Cultural Center at 1000 Richmond Terrace, building D, in Staten Island New York.  Here is a short video of the last shanty session.
I clearly have chosen an inopportune weekend to be in San Diego.