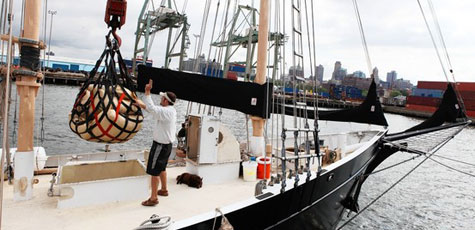 The last time that a commercial cargo was unloaded from a sailing vessels at the New York docks was 1939.  That is, at least, until yesterday, when the 70′ schooner Black Seal arrived in Red Hook, Brooklyn and began unloading a cargo of 20 tons of cocoa beans for Brooklyn's Mast Brothers Chocolate.   See Will Van Dorp's tugster blog for great photos of unloading the bagged cocoa.  See also A Captain's Lament: Cocoa Cargo on Rough Seas.
Cocoa Arrives, By Sail

On the Red Hook waterfront next to a container ship carrying 20,000 tons of Ecuadorian bananas, a group of stevedores, sailors and makers of artisanal chocolate spent Tuesday morning unloading 20 tons of cocoa beans out of a 70-foot sailing schooner.
It was the first time a sailing ship had unloaded commercial cargo in New York since 1939, according to one city official.
Two years ago a pair of bearded brothers decided to try importing cocoa for their Williamsburg chocolate factory—which focuses on simple, ecologically friendly sweets—by sail. They hoped it would save energy, help lure environmentally conscious buyers, and, maybe eventually, cost less. Their ship finally came in from the Dominican Republic on Monday night.
"We tend to think of everything as simple as possible," said one of the brothers, Rick Mast. "Why can't you sail it?"
The brothers wanted to get to work unloading right away Monday, but that turned out not to be simple. The piers in Red Hook aren't set up for sailboats, so the deck of the ship was too low for stevedores to safely haul the 150-pound bags of cocoa beans onto dry land. The four-legged rolling behemoths that unload shipping containers, meanwhile, were too large to use. A small crane had to be driven down the Brooklyn-Queens Expressway from Long Island City.
That was how it went for much of the Black Seal's four-week voyage to the Caribbean and back to New York. While sailing ships carrying goods were responsible for much of New York's early development, doing trade that way these days is complicated.
The first problem was finding a cargo ship with sails. Rick and Michael Mast, co-founders of Mast Brothers Chocolate, eventually found the three-masted Black Seal, which Captain Eric Loftfield had spent 25 years building in his Cape Cod lawn as a hobby. Mr. Loftfield spends much of his time piloting ships between Washington and Alaska.
Then they had to figure out where to dock it and unload it. There they had the help of Andrew Genn, the vice president of the New York City Economic Development Corp.'s maritime division. He helped them figure out how to dock the ship at the Red Hook Marine Terminal, in which the city owns a stake.
Mast Brothers' will turn its cocoa beans into chocolate over the next year. They'll sell it to big-name chefs like Thomas Keller and Dan Barber and in grocery stores like Dean & DeLuca. Mr. Mast estimates that the Black Seal's shipment of cocoa will end up costing 25% to 30% more than usual. But he hopes to repeat the trip again and expects costs to decline as the company make its shipping operation more efficient.
Thanks to Carolina Salguero for the heads up about the shipment, to C. Whiting Rice for passing along the article and to Tom Russell for pointing out the blog post.