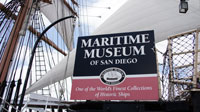 The first you notice about the Maritime Museum of San Diego are the ships.    When I  visited last week, the 1863 windjammer Star of India was  hove to with two staysails and her spanker set and drawing, and with her main topsail backed, tied up on the seawall  right alongside North Harbor Drive in downtown San Diego.   Directly off the Star of India's stern is the HMS Surprise, the replica of the a 24 gun British frigate the  HMS Rose. The Surprise is tied up alongside the steam ferry Berkeley. Down the dock the masts of the replica Revenue Cutter Californian are visible rising above the ferry.  Taking a closer look, there are also two submarines, a steam yacht and a pilot boat in the collection. Overall, a very impressive collection of ships and boats, all well maintained and cared-for.

As impressive as the ships and boats are, it can take a minute to realize what the museum is lacking – real estate.  The entire facility is  afloat.  What looks at first like a long dock jutting out from the seawall is in fact a barge, a converted car float.   Unlike other "seaport museums," Mystic Seaport Museum comes to mind, where they have gallery space as well as an entire restored seaport village, or the South Street Seaport in New York, where much of the 19th century architecture of the original seaport remains at least superficially as it was when South Street was a working harbor,  the closest thing that the Maritime Museum has to dry land is the sidewalk along the seawall where the Star of India is tied up.
They make do remarkably well.  Lacking shore side galleries, the ships have been pressed into service.  The tween deck of the Star of India hosts several exhibits, including the "Age of Sail" and "Whale Magic" in addition to displays about the ship and its history.   Likewise the car deck of the Ferry Berkeley hosts exhibits including  the "Age of Steam,"  "Harvesting The Ocean," and "San Diego's Navy."   On the Surprise and the Berkeley the museum has a new exhibit running through 2012, "Cook, Melville, and Gauguin: Three Voyages to Paradise."
The museum is also building a full-sized, fully functional, and historically accurate replica of  Juan Rodriguez Cabrillo's San Salvador, flagship of the Spanish expedition of 1542, which first explored what is now the West Coast of the United States.
As one who lives no so far from two East Coast maritime museums which are notable for the neglect that they have shown to historic ships, the Maritime Museum of San Diego is a refreshing reminder of a museum that gets it right.