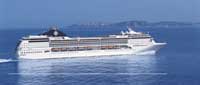 The good news is that the events were more like the Carnival Splendor than the Titanic.  No one died. No ships were lost to icebergs.  Nevertheless, there was high drama, bordering on the operatic, on the cruise ship MSC Opera on its voyage from Southhampton to the Baltic last month.   There was a blackout, the ship adrift,  a passenger mutiny and the detention of the ship by the authorities.  Now that the ship is back in service, it seems worthwhile to take a look at the unsuccessful cruise.

As the curtain rises, the cruise ship MSC Opera arrived in early May in Southampton for its debut call on the port.   The ship sailed on May 7th on a ten day cruise in the Baltic with 1,700 passengers aboard. On May 14, day seven of the cruise,  the ship went dark.  MSC said that there was a mechanical  failure, which cut power to the ship's engine's and hotel service.  The ship drifted for almost three days,  before tugs arrived and towed her into the Swedish port of Nynashamn near Stockholm. In the mean time, there was no lighting, heating, hot food or drinks. There was also no running water and the toilets were not functioning.  The 1,700 passengers where not happy.  There are reports of a passenger mutiny, which appears to have been quelled, at least in part,  by free drinks.  When the ship arrived in Sweden, the passengers were given vouchers for the cost of the cruise and flown home.
After two weeks of repairs, the Opera returned to Southampton to begin another cruise only to be detained by British authorities for "for safety code violations."   Last Friday the ship was finally allowed to sail.
Coincidentally, while the drama aboard the Opera was unfolding, seven smugglers were convicted and sentenced to a total of 84 years in prison for attempting to smuggle 35 kilos of the cocaine into Dover last year by cruise ship.  The cruise ship  – the MSC Opera.