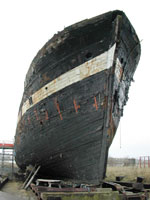 The clipper ship City of Adelaide (later HMS Carrick), the oldest surviving composite clipper ship in the world, was at serious risk of being broken up until a deal was  struck last August to move the ship from the Scottish Maritime Museum in Irvine, Scotland, back to its namesake city in Australia – Adelaide.   Next week, the fabrication of a 100-tonne steel cradle, to support the historic clipper will begin.   See our previous posts about the efforts to save the City of Adelaide.
City of Adelaide work to begin

A ceremony to mark the start of the project will be held at Samaras Structural Engineers on Monday morning (June 27).
A bottle of champagne will be cracked over the first piece of the cradle by Pam Whittle, the great-grand-daughter of the clipper's first captain, David Bruce, and Marion Wells, the great-great-granddaughter of migrant Matilda Methuen.
The clipper and cradle will then be rolled onto a barge for transfer to a deep port at Rotterdam, where it will be transferred to a larger ship for the voyage to Port Adelaide.