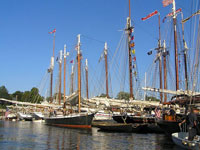 In 1936, Frank Swift founded Maine Windjammer Cruises and began chartering or buying old cargo schooners and offering passenger cruises along the Maine Coast.  This Friday, the Maine Windjammer Association will hold the 7th Annual Maine Windjammer Parade & Anniversary Party in honor of Swift's founding of the Maine Windjammer industry seventy five years ago.
Festivities Mark Windjammer Fleet's 75th Anniversary, July 15

The Maine Windjammer Association will host the 7th annual Maine Windjammer Parade past the Rockland Breakwater on July 15 from 2-4pm. Geared for both spectators on shore and windjammer guests, the event will provide close-up views of the entire fleet as it sails within a stone's throw of the Rockland Breakwater Lighthouse. Spectators may view the Parade of Sail from anywhere along the mile-long Breakwater. Immediately following the Parade, many of the windjammers will anchor next to the jetty inside Rockland Harbor for the evening. Open to the public, festivities will also include a free evening concert at Sharp's Wharf by folksinger Gordon Bok deemed by Time Magazine the "poet laureate of those who go down to the sea in ships," a multi-media display of historic photos of the 75-year-old company, open schooner tours and more. For more information about the Parade, call the Maine Windjammer Association at 800-807-WIND.