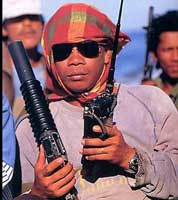 While an international flotilla of naval vessels continues to play "catch and release" with pirates off the Horn of Africa, the Indian Ocean and the Arabian Sea, the pirates themselves have become far more sophisticated.   Where a few years ago, the typical pirate venture appeared to be three men in an open skiff with small arms, today the pirates are well funded, operate from wide ranging mother ships and and use high tech tracking to locate their prey.
Since at least 2007, Somali pirates have had their own Stock Exchange to fund their wide ranging crimes.  Yes, a pirate Stock Exchange.   Thus far the UN, the United States and the EU have done little to shut it down or to cut off the supply of capital to the pirates. It is often said that the problem of piracy will only be solved on land.   Here is a land-based opportunity to strike at piracy that the international community has effectively ignored.
Today's Pirates Have Their Own Stock Exchange

The world's first pirate stock exchange was established in 2009 in Harardheere, some 250 miles northeast of Mogadishu, Somalia. Open 24 hours a day, the exchange allows investors to profit from ransoms collected on the high seas, which can approach $10 million for successful attacks against Western commercial vessels.
While there are no credible statistics available, reports from various news sources suggest that over 70 entities are listed on the Harardheere exchange. When a pirate operation is successful, it pays investors a share of the profits. According to a former pirate who spoke to Reuters, "The shares are open to all and everybody can take part, whether personally at sea or on land by providing cash, weapons or useful materials. . . . We've made piracy a community activity."
The big player on the Harardheere exchange is a pirate named Mohammed Hassan Abdi, who goes by the name of "Afweyne," or "Big Mouth." Known as the "father of piracy," Abdi and his son Abdiqaadir are in charge of the exchange and are, according to a recent United Nations report, among the best-known pirates in the area. Abdi's boats have hijacked a variety of ships, including the German freighter Hansa Stavanger, which German special forces tried unsuccessfully to liberate in 2009. After a four-month hostage ordeal, the pirates released the ship off the coast of Kenya.
Cutting off these financial relationships is essential to curbing piracy. The U.S. could begin by instituting, via executive order, a sanctions regime against these rogue actors. Just as the government maintains lists of terrorists, narco-traffickers, weapons proliferators and money launderers, so too should it keep a list of pirates. This would heighten international awareness of piracy and give banks an additional tool to employ against illicit actors. Pirates, like all other criminals, eventually use the banking sector to try to hide their criminal gains.

The U.N. and other international organizations—such as the Financial Action Task Force (FATF), an intergovernmental body that sets standards regarding terrorism finance and money laundering—also have roles to play. For one, the U.N. should expand its current Somalia and Eritrea monitoring committee, which was established in 1992 to implement the U.N. travel ban, asset freeze, and arms embargo on Somalia, as well as the arms embargo on Eritrea. An expanded committee could improve the anti-piracy intelligence-gathering capabilities of its members and track the finances of significant international pirates.
For its part, the FATF could get serious about including piracy within its mission of highlighting how money launderers and terrorists raise and move funds. To date, the organization has never issued a report on piracy. Doing so would prod a variety of international organizations, policy makers, law-enforcement agencies, and banking authorities to grapple seriously with this threat.