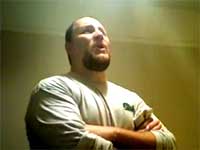 On his YouTube channel, Hulton Clint identifies himself as "Ranzo, the YouTube Chanteyman."  Something over  three years ago he began an ambitious You Tube undertaking : The "Shanties From the Seven Seas" project where he sings the chanteys from Stan Hugill's classic book of the same name and records them as You Tube videos.  He describes the project as:
A quasi-systematic project of recording examples of the sea chanteys (shanties) in Stan Hugill's book of the same title. The text compendium contains "over 400 shanties," and Hugill was one of the last living working chanteymen aboard merchant sailing vessels, who was largely responsible for keeping alive the know-how of chantey-singing after the days off sail had ended.
It has often been said that a chantey was worth ten hands on a rope. I say that nowadays a chantey is worth 1000 songs in an iPod.

Hulton Clint is a gentleman in his thirties with a full and robust voice who sings the shanties as they were meant to be sung – completely unadaorned.   He sings the chanties in his living room, his kitchen, in his workroom and his car. He sings alone, with friends, male and female, always without accompaniment or special lighting.  The singing can be coarse but it is undeniably real. Great fun.