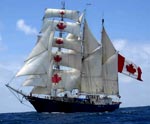 In February 2010, the sail training ship Concordia sank off the coast of Brazil.  At the time, the captain said that the ship was hit by a "microburst," also known as a white squall, a violet storm which struck the ship so rapidily that there was no time to react.  A report issued today by the Transportation Safety Board of Canada, however, blamed human error caused by poor training for the capsize and sinking of the ship.
Poor training standards to blame in SV Concordia sinking
Investigators said a squall tipped the 11-storey sails to the side, capsizing the boat. But they said the winds were likely no greater than the ship had previously survived.

"Despite the changes in the wind conditions in the 60 to 75 minutes preceding the occurrence and the fact that several squalls were being tracked, both visually and on the radar, the [second officer] did not perceive any threat to the vessel," the report found. 
"As the apparent wind speed increased with the onset of the squall, the vessel's heel angle reached roughly 23 [degrees] for approximately two to three minutes without mitigating action being taken."
Finally, as it tipped even further, the crew tried to right the ship, but to no avail.
"The forward and aft deckhouses had not been fully secured weathertight and, therefore, the vessel's righting ability at large angles was reduced and protection against the ingress of water was compromised," the report found.
"As a result, downflooding progressed until the vessel lost all stability and capsized."
While the officer responsible for making such changes had the proper Canadian certification, that training didn't include sufficient information about stability guidance, investigators concluded.