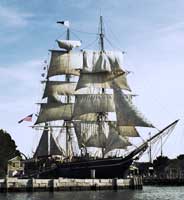 Sail the Morgan 2014 is hosting a week-long celebration of the arrival of the last American wooden whaleship, the Charles W. Morgan, in Mystic, Connecticut.  The celebration running from  "October 28 to November 5 will feature a restaurant week, shopping events, evening concerts, and art and photography exhibits focusing on 1941, the year the Morgan came upriver to the Marine Historical Association, which later became Mystic Seaport. Additionally, the Museum will offer free admission on Saturday, November 5."  A free fireworks display on the evening of  October 28th will kick off the event.
Sail the Morgan 2014 is a Mystic community group dedicated to raising $1.5 million to help Mystic Seaport restore and sail the 1841 whaleship.
The Charles W. Morgan 70th Anniversary Celebration

In 1941, the historic whaleship Charles W. Morgan arrived at Mystic Seaport. We're throwing her a party and you and your guests are invited for free to enjoy the festivities:
A special ceremony, featuring noted historian and author, Nathaniel Philbrick*
Chowder by Coastal Gourmet
Maritime skills and squad presentations
Talks by shipwrights about the restoration
Live music 
An "Eyewitness Reunion" of those who greeted the whaleship in Mystic 70 years ago
Book signing with Nathaniel Philbrick in the Museum bookstore at 2:45 p.m. ("Why Read Moby-Dick")
Premiere performance of "Prince of Whalers," 5:30-7:00 p.m.