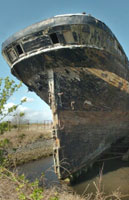 The future of the oldest, just barely surviving, composite clipper ship in the world, the City of Adelaide, is again in question. Shortly before it was due to be scrapped in Scotland last August, an agreement was reached to send the City of Adelaide to her namesake city in Australia. Work has been started on preparing the ship for transport. Now, the Australian Culture Minister, John Hill, says that the Australian government will not fund the project.  Mr Hill went on to suggest that he needed guarantees that Clipper Ship City of Adelaide Ltd, the group hoping to restore the ship, had funds to restore the ship before it would be granted a permanent berth on the city's quayside.  Four years ago, the government  spent AU$18 million to build pens in the City of Adelaide zoo for pandas on loan from China.  It appears that Australian history cannot compete with borrowed bears.

The only good news is that the Sunderland City of Adelaide Recovery Foundation (SCARF) is still interested in returning the ship to the city in Scotland where she was built.  Last year Fiona Hyslop, the Scottish Cabinet Secretary for Culture, chose the Australian proposal over the proposal presented by SCARF.
A quarter of a million South Australians, or one in five, can trace an ancestor that migrated, or was a passenger, on the City of Adelaide.