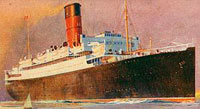 The evacuation of British troops and civilians from France in 1940 did not end with Dunkirk.   Several weeks later,   on June 17, 1940, the British Cunard liner Lancastria was loaded to capacity with troops and civilians off the French port of St. Nazaire, when she was struck by three direct hits from a German Junkers 88 bomber.  As many as 6,500 men, women and children were lost when the ship sank.  It was the worst maritime disaster in British history. The sinking claimed more lives than the combined losses of Titanic and Lusitania.  News of the disaster was covered up. Churchill said that, "The newspapers have got quite enough disaster for today, at least."
Now 71 years after the sinking, the "silent sacrifice" of those aboard the Lancastria was finally acknowledged this weekend as a memorial to the victims was unveiled on the banks of the Clyde at the site of the the shipyard where the ship was built.
Victims of HMT Lancastria sinking honoured with memorial

Scottish First Minister Alex Salmond is to unveil a memorial on Saturday on the banks of the Clyde, at the site of what was the William Beardmore and Sons shipbuilding yard where HMT Lancastria was constructed.
The memorial is a bronze sculpture, set on a granite block with a commemorative text, and was created by Fife artist Marion Smith. The bronze represents the early steel sheet construction of the Lancastria.
Walter Hirst was a Sapper with 663 Company, The Royal Engineers. About one-third (91) of the men in his company died when the Lancastria sank.
Mr Hirst, 42, from Jedburgh in the Borders, said: "The memorial to the victims of the Lancastria is a fitting and lasting tribute to the thousands who died in what remains Britain's worst ever maritime disaster.
"Their sacrifice was ignored for decades because successive British governments refused to formally acknowledge the loss of the Lancastria for propaganda reasons.
"The site on which the new memorial stands is where the Lancastria was constructed in 1920 and where this once great liner came to life.
"The unveiling of this memorial brings the story full circle and I am certain it will be a place of pilgrimage and remembrance in the years to come." 
Thanks to Alaric Bond for passing along the story.