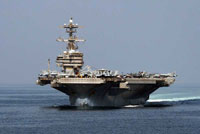 The USS George HW Bush, the tenth of the Nimitz class, is the US Navy's newest aircraft carrier.  It cost $6.2 billion to build and is powered by two nuclear reactors which can develop 260,000 shaft horsepower.  The carrier can carry 90 fixed winged aircracft and helicopters. The ship's crew numbers 3,200 with an additional 2,400 serving in the air wing.  The one thing that the ship does not have, apparently, is working toilets.
Since it deployed in May, the new carrier has suffered from widespread plumbing failures, which, at times, rendered the entire ship without a single working head.   With remarkable understatement, the crew has complained that the lack of toilets has "affected their morale, health and job performance."   The problem has been ongoing for six months. The Navy is blaming the sailors, who are blaming the design of the vacuum toilet system.
Carrier Bush suffers widespread toilet outages

The problems were first reported by Mary Brotherton, a blogger and mother of a Bush sailor. 
The issue, according to sailors and the ship's internal newsletter, is the vacuum system that moves waste through the ship's pipes. The system breaks down with little warning, making it impossible to flush, they said. This forces toilets and urinals throughout the ship to go offline as crews examine the carrier's 250 miles of pipe to figure out what's wrong and restore vacuum pressure. One shipwide breakdown required one department to work a 35-hour stretch with no rest to fix, according to the January edition of the carrier's newsletter The Avenger.
Complicating the matter, some working heads are secured with a lock, letting only sailors who know the combination inside, the sailors said. 
So far there's no backup plan for when the system goes offline, the sailors said. Sailors report the ship does not have portable toilets. Nor are wag bags — sealable plastic sacks designed to hold human waste — available for use until heads are fixed. Given the circumstances, whenever the heads on the ship break, the 5,000 sailors onboard must either ignore nature's call or find inventive ways to relieve themselves until they can find a proper bathroom.