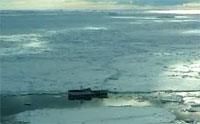 The Russian fishing vessel Sparta is afloat, though just barely after being holed by ice at the edge of the Ross ice shelf in Antarctica.  Why was an non-ice strengthened fishing boat fishing in such treacherous waters in the first place?  That is the question being raised by the Vyacheslav Martyanov, the deputy head of the Russian Antarctic expedition at the research institute of the Arctic and Antarctic regions.
Troubled fishing boat 'not suitable for ice'
"The area where the Russian fishing vessel has been in distress is one of the most difficult icy zones of Antarctica," he told state-controlled Voice of Russia.
 "Only ice-strengthened vessels or icebreakers can sail there. We can only guess how such a small and unfitted vessel came to that area."

He said rescue teams should try to get the crew off the ship and prevent an oil spill.
Sparta carried 180 tons of light fuel oil.
Martyanov said the ship would have sunk by now had it not been for an extra pump parachuted to them.
But it would be better that the crew got off.
"They don't have rescue boats onboard only rescue rafts. With a zero-degree water temperature rafts won't stay [afloat] for a long time. The safest option for the crew is to set up a camp on a drifting ice block."
Voice of Russia quoted Alexei Knishnikov, head of the programme of the environmental politics in oil and gas sector at the Wildlife Fund, as saying they were worried about the oil threat.
"Today we don't have technical solutions for cleaning fuel spills in icy areas.
"A recent 110 tons oil spill in Norwegian waters showed how difficult it is to clean oil from ice filled waters.
"Although the people who worked there had used loads of equipment they managed to pump less than half of the amount that leaked into the sea.
"The other half spread across the water area or froze into the ice and has been affecting the eco system for many months."
The Russians noted that two ships were trying to rescue Sparta, another Russian flagged trawler Chiyo Maru 3 and the Korean icebreaker Araon.
They said it was unclear what would happen once the ships reached Sparta as they had no capability of saving it. They would only rescue the crews.
Sparta was the responsibility of New Zealand's Rescue Coordination Centre.
It was licensed to fish in New Zealand's Ross Sea by the 25-nation Commission for the Conservation of Antarctic Marine Living Resources based in Hobart.
The commission is under pressure to create a marine reserve over the Ross Sea but this is being resisted by New Zealand, the main toothfishing nation in the area.