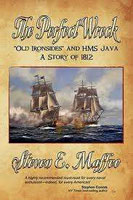 Linda Collison, author of Surgeon's Mate and Star-Crossed, recently reviewed Steven E. Maffeo's new book The Perfect Wreck – Old Ironsides and HMS Java: A Story of 1812 in her blog Sea of Words.  I enjoy reading Linda's reviews almost as much as her books. Reposted with permission:
The Perfect Wreck chronicles a fateful clash of ships
"On board Old Ironsides, it suddenly occurred to Lieutenant Parker that thus far this battle had not been, and was not going to be, a mere pounding match. It was more a complex combination of skillful maneuver and artillery duel. He realized the two ships were much like fencers or boxers, with a succession of evolutions which resembled those kinds of changes of position – parries, lunges, ripostes, retreats, and advances – all accompanied by a continual play of the great guns, answering to the thrusts and blows of each individual movement…"
– from The Perfect Wreck –Old Ironsides and HMS Java: A Story of 1812.

The Perfect Wreck is the first book dedicated to the events leading up to the fateful encounter between the U.S.S. Constitution, one of the first of America's frigates, and H.M.S. Java of the Royal Navy, with the battle itself the climax of the story.
Author Steven E. Maffeo is the associate library director at the U.S. Air Force Academy, a retired Navy Captain and a visiting history lecturer and tour guide instructor for the U.S.S. Constitution. Oh, and let's not forget a credential that is even more valuable, which is his passion for history; especially the age of sail.
In reading this realistic account I feel as if I'm a fly on the wall (or a weevil in the biscuit), seeing and hearing what went on aboard these two vessels. Maffeo explores the edges of nonfiction without falling into the sea of make-believe. This form of narrative is sometimes called creative nonfiction, which according to Lee Gutkind, founding editor of the journal Creative Nonfiction, is "reportage in a scenic, dramatic fashion" (author's afterword). True to the form, Maffeo finds the inherent structure to the story, linking what is known with what is probable. The commands given by the officers, the lists of provisions, the weather and sea state, the casualties and damage to the ships are all authentic and brought to life on the page.
As Steve says in his afterword, "I've tried extremely hard to deliver to you solid historical truth, but at the same time bring the era to life and pull you into its time and place."
Aye, Capt. Maffeo, that you have! My own sense of maritime history has been enhanced by reading this, and I hope my own writing will be enriched by having experienced it. (If you've read either of my historical novels you'll know I don't actually write historic naval fiction but am definitely having an affair with it!)
***
Steve Maffeo and I are shipmates aboard Fireship Press, a small publisher founded by the late Tom Grundner, who was also an author and aficionado of historic naval fiction. I have had the pleasure recently, of corresponding with Steve who is eager to share his passion for naval history.
Linda:"Steve, I know you're a retired naval captain but what piqued your interest in the age-of-sail? Was it all while you were serving in the navy?"
Steve: "It might seem funny, for a kid born and raised in Denver, but it seems I've always been interested in ships, and even more so the age-of-sail. Can't remember when I wasn't! There may have been other factors, but I think seeing the Trevor Howard/Marlon Brando "Mutiny on the Bounty" in '63 (I was 9) was significant, and my mom bought me a beautiful edition of "Captain Horatio Hornblower" when I was in the 4th grade – with the great NC Wyeth book jacket. I've also always been interested in the historical period of, roughly, the French and Indian Wars thru the Napoleonic Wars with all the cultural, political, and military aspects of that period, so it becomes a larger "package," as it were."
Linda: "I loved all the details you wove into the account and the respect you obviously have for the officers and men of all the ships on both sides of the war. I imagine this authenticity stems from your 30 years in the navy – and your familiarity with Old Ironsides. On your website you mention having access to some rare sources of information and inspiration. Care to elaborate?"
Steve: "Well, there were those three evenings when I sat in the captain's cabin and worked on the manuscript….and was the only soul on board the entire ship as the watchkeepers were pierside…that was truly memorable. I have been allowed to climb both fore and mizzen masts with the crew on two different occasions; quite the experience, even at pierside.
Linda: "Oh, you're killing me here! To be able to have that ship all to yourself, just you and the ghosts of Commodore Bainbridge and his crew, what an enviable experience!"
(Click here for a mini-YouTube tour of the captain's cabin where the author worked on the manuscript.)
Steve: "Another Age-of-Sail snapshot is when my wife Rhonda and I were at a Patrick O'Brian Symposium at the Royal Naval Museum in Portsmouth, just two weeks after 9/11. One night the group had dinner at tables on the lower gundeck of the Victory, and at one point I was apparently staring vacantly around in rapture at just being there; the noted British marine artist Geoff Hunt, sitting across from me, became concerned to ensure that I was OK – and of course I was…way more than OK!"
Having read The Perfect Wreck Steve's other books are now high on my reading list:
Most Secret and Confidential: Intelligence in the Age of Nelson (Naval Institute Press; 2000) A trade paperback edition is planned for Fall, 2012.
Seize, Burn or Sink: The thoughts and words of Lord Horatio Nelson (Scarecrow Press; 2006)
For more information visit the StevenMaffeo.com
The USS Constitution was one of the first six frigates authorized for construction by the Naval Act of 1794 and is most famous for her actions during the War of 1812 against Great Britain during which she defeated five British warships and earned her nickname, Old Ironsides. Launched in 1797 she is still a fully commissioned US Navy ship with a crew of 60 active-duty officers and personnel. Old Ironsides is berthed at Pier 1 of the former Charlestown Navy Yard and no visit to Boston would be complete without taking the tour and visiting the bookstore. Her crew and commanding officer Commander Matt Bonner are preparing for bicentennial observances of the War of 1812.