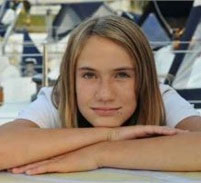 Laura Dekker, the 16 year old solo sailor, is on the last leg of her voyage around the world.   She is bound not for Europe but back to Sint Maarten in the Caribbean, from which she sailed on January 5, 2011. On her arrival, she will be the youngest ever to circumnavigate the globe alone.  As she noted on her blog yesterday, with typical understated good humor, " Now I only have some 4800 nautical miles to go until I reach the Caribbean and finish my circumnavigation of the world. That sounds so incredibly close in view of all the miles Guppy already has under the keel, but at the same time it seems quite far away for I am still in the southern hemisphere. .."
Her voyage may not end in the Caribbean. In a recent interview Laura commented "I will make my way back to Whangarei in New Zealand where I hope to settle and maybe call home."  Laura was born in Whangarei, fittingly enough, on a sailboat.  It has always seemed that Laura's focus has been on the voyage itself and not on setting records.

She has faced considerable hardships – extended periods of sleep deprivation, major storms and wind, but has always  maintained her perspective and sense of humor, at least as reflected on her blog posts.  It is an interesting commentary on our times and technology that we are following her exploits via a blog.  On the other hand, the dreadful isolation of single-handed sailing must be somewhat easier to cope with with help of the internet and satellite communication.
In yesterday's blog post, she comments about the wind, the overcast and squid:
The nice wind I had yesterday calmed down a little which is not so bad because I don't have to adjust the sails or the course so much. But what I really missed in the last days was the sun so it is colder now, especially at night. Apparently the squids agree with me for they keep coming to lounge on Guppy's warm deck all the time and then … I can't say it warms my heart to pick-up dead squids. They are not as easy to grab and throw overboard as dried out flying fishes. Those things just get glued to the deck and they will come apart when you pull on them which only makes for a bigger mess to clean up. The small signboard 'No squids allowed' I put up didn't make much of a difference

… Naja, if those are my biggest problems for now it goes to say that all is pretty good onboard …
Laura
Bon voyage Laura, wherever your travels may take you.