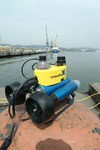 New York harbor was the sight of the first use of a submersible in combat.  On September 6, 1776, Eza Lee in command of the Turtle, a one man submersible designed by David Bushnell, attempted and failed to sink Admiral Richard Howe's flagship HMS Eagle.   Today, modern submersibles are watching out for new underwater threats in the harbor.
The New York Police Department Harbor Unit now has at least six unmanned submersible drones, remote-operated vehicles, or R.O.Vs, to search the harborside and hulls of ships for explosives, weapons or narcotics.   The mission of the Harbor Unit has increasingly shifted to counter-terrorism and the drones have provided a new set of eyes to search for threats below the tide line.
Underwater Drones Giving More Eyes to Police Harbor Unit as Searches Grow

The NYPD drones are manufactured by VideoRay, a Pennsylvannia based company, which produces drones for use in law enforcement, offfshore oil, aquaculture, research, for workboats and yachts. Their drones can dive to 1,000 feet and range in weight from only 8 to 16 pounds, depending on the model and rig.
Here is a video of the NYPD using a VideoRay ROV:
VIDEORAY – LAW ENFORCEMENT NYPD