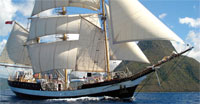 The headline in the Liverpool Daily Post reads, "Places available on first Liverpool transatlantic tall ship voyage for more than 100 years."   Whether this is literally true or not, the trip looks very interesting for a number of reasons. The three-masted barquentine Pelican will sail from the River Mersey with 28 passengers on a crossing from Liverpool to the West Indies on September 22.  Pelican is operated by Adventure Under Sail Ltd.

The voyage sounds great. What catches my eye, however, is the ship itself, or rather its rig. The Pelican is square rigged on the main mast but fore and aft rigged on the fore mast and mizzen.  The rig, designed by Phillip Goode, is intended as a hybrid between a traditional square rig and the mixed square and fore and aft rig of the Barbary coast Xebecs.
The rig and the ship is discussed in the video below:
T.S Pelican – The story so far – PART 2
Thanks to Tom Russell on the Traditional Sail Professionals Linked-In list for pointing out the news.