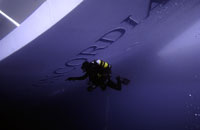 The death toll from the sinking of the Costa Concordia has risen to thirteen as divers discovered another body of a woman wearing a life jacket in a submerged passageway.   Eight of the thirteen victims have now been identified according to Italian officials. Four of the dead are French, one is Italian, one Hungarian, one Spanish and one German.  Twenty four people remain missing including two Americans.  There is now concern that there may have been stowaways aboard the ship. If so, the unregistered passengers may increase the final death toll.

Searching for the missing has been repeatedly interrupted as the ship has shifted on the narrow ledge where it was ultimately grounded.  With the onset of bad weather there is concern that the ship may shift into deeper water releasing the 2,400 tonnes of fuel in the ship's tanks. The waters around the island of Giglio are a marine sanctuary as are areas around the nearby islands of Elba and Montecristo, which could also be impacted by a such a spill.
Salvors have been waiting for the completion of the missing before beginning to attempt to begin attempting to pump out the ship's fuel tanks.  Salvage experts are considering whether the ship can be righted and repaired or whether she should be cut apart in place and removed by section.
Thanks to Phil Leon for passing articles along.