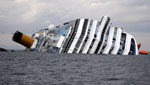 The search for the missing in the submerged portions of the Costa Concordia has ended due to concerns for the safety of the rescue workers.  The estimated toll from the sinking stands at 33 dead or missing.  The bodies of 17 passengers and crew have been recovered since the ship grounded and capsized on January 13th.  An additional 16 people are still missing and presumed dead.  Salvage crews continue to be delayed by bad weather in their efforts to pump the 2,300 tonnes of marine diesel oil and gas oil from the ship.

Franco Gabrielli, head of Italy's civil protection agency, estimates that the removal of the ship could take up to a year.   He said it would take up to two months for salvage companies to respond to a call for tenders from the ship's owners, Costa Corciere. "Taking into account the constraints that weather and sea conditions may impose, it will take seven to 10 months to remove the wreck," he told the Ansa news agency. 
The cost of the Costa Concordia sinking could reach a billion dollars, paid primarily by insurance companies.  Carnival Corporation, the parent company of Costa Cruises, will likely be responsible for at least $40 million in deductibles.  Initial estimates from Carnival suggest that they may also loose another $95 million in lost bookings.  There are also concerns that the bad publicity from the sinking will negatively impact cruise bookings just as the industry is recovering from the recession.