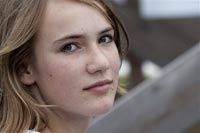 We recently posted about a minor kerfuffle involving Dutch bureaucrats who were unhappy over 16 year old Laura Dekker not keeping up with her school work while sailing alone around the world.   It brought to mind the old adage from Mark Twain, "Don't let schooling interfere with your education."   Laura recently seemed to be making almost the same point, without directly addressing schooling:
"I am looking forward to my arrival and officially end my journey even though I feel like I already accomplished what I had set out to do a long time ago," Dekker writes. "I have learned very much about myself along the way and I also have learned very much from all the different places and the many different people that I came in contact with in so many different countries."
I wonder if the distraught bureaucrats can understand the scope of  what Laura has learned as it compares to their incomplete lesson plans.

One thing that Laura is not looking forward to are the hordes of media that will be waiting for her in roughly ten days when she arrives in St. Maartin and completes her solo circumnavigation, which she has described as her "dream come true."
"Everything will abruptly change soon as we will come under the media limelight. I am so glad that I still have 12 more days on the Atlantic Ocean before that time comes because that part never appeared in any of my dreams."
Dutch teen days away from completing solo sail around the world
She reportedly expressed her concerns about the media on a satellite phone interview with a Belgian radio station last Friday.  I  am still struck by the strangeness of a sixteen year old sailing alone around the world, blogging and giving live radio interviews.   If the world was not so interconnected there would be no army of media waiting for Laura on St. Maartin and she might get the chance to get some sleep before sitting for the endless interviews and appearances that she will. no doubt, face.  Then again, were it not for technology, so many of us around the world would not be able to follow the remarkable exploits of this remarkable young lady as she has made her way alone around the globe.