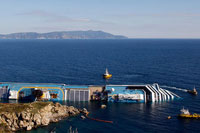 MSNBC is quoting Adam Smallman, editor of Lloyd's List, as saying that the Costa Concordia took close to the same route in August, based on satellite tracking, as it took when it ran aground last Friday night. He also is quoted as saying that the course was "authorized by the company and the coast guard."
"Our assessment of the route this vessel took (in August) is it must have come perilously close, and I mean possibly within touching distance of the rock that it hit this time … which the company is saying wholly unauthorized in terms of its proximity to the island," Smallman said.
Lloyd's List also notes: No cruise ship apart from Costa Concordia has come into close proximity with Giglio in the last six months, according to an analysis of Automatic Identification System data by Lloyd's List Intelligence.
This isn't so much new information as confirmation of what we posted yesterday. See The Costa Concordia's Fatal Salute – "Inexplicable Error" or "Nice Tradition"?

The mayor of Giglio says that these close passes by cruise ships have taken place at least four times while he was mayor, while local residents have said that they have taken place much more often. See our previous post for video of the close pass made by the Costa Concordia to the island last August. Shortly thereafter, the mayor of Giglio emailed the captain of the ship thanking him for a close pass to the island and praised him for providing an "unequalled spectacle," that had become an "indispensable tradition."  The captain of the Costa Concordia in August was not Francesco Schettino, the current captain, who is now under house arrest.
In a recent press conference, Costa Crociere chairman and CEO Pier Luigi Foschi blamed the grounding of the Costa Concordia on an "inexplicable" error by the captain.  Mr Foschi said: "This route was put in correctly. The fact that it left from this course is due solely to a manoeuvre by the commander that was unapproved, unauthorized and unknown to Costa."
It now appears that steering close to the island of Giglio by the Costa Concordia was not necessarily "unauthorized and unknown" to Costa, Mr. Foschi's assertions notwithstanding.  Rather than an "inexplicable" error by a single captain, if the island's residents are to be believed, it appears to have been not so uncommon, characterized in Giglio as a "nice tradition."  As Der Spiegel comments, it was also a "tragedy was waiting to happen."
Thanks to Phil Leon for pointing out the article.