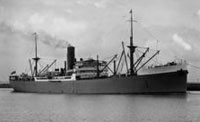 The Portland, ME based, Sub Sea Research (SSR) recently sent out a press release announcing that they had located what they claim to be "the worlds richest shipwreck,"  the British freighter, SS Port Nicholson, carrying a secret cargo of 71 tons of platinum, sunk by the German submarine U-87 on June 16th, 1942 Northeast of Cape Cod, MS.  From the press release: SSR first discovered the Port Nicholson in 600-800 feet of water off Cape Cod in 2008. In 2009 SSR obtained legal recognition from the US Courts as the legal owner and salvager of the ship.  The company also posted a Youtube video documenting their discovery.

According to SSR research, the Port Nicholson and four other ships were being escorted by six military ships in a convoy from Halifax to New York. The Port Nicholson is documented to be carrying ~1,707,000 troy ounces of platinum. It may also contain $165M of copper, zinc and war stores. Greg Brooks, one of two SSR founders, said his team has already recovered several identifying and critical artifacts. He has verified that "it is without a doubt the Port Nicholson".
Late in the summer of 2011, after 100's of hours of ROV video, they have seen what appear to be bullion boxes containing 4 bars, each being 400 troy ounces of precious metal. "We have seen boxes indicative of those used to store and ship this type of bullion in 1942. Our video clearly shows the box and our inspection class remotely operated vehicles (ROV) could not lift it due to its weight of about 130 lbs."
The Richest Shipwreck Treasure, in Bostons back yard
Thanks to Irwin Bryan for passing along the news.