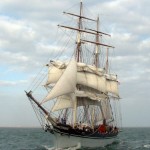 Last week we posted about America's 10 Most Endangered Historic Ships of 2011, a list compiled by Joe Follansbee at the Fyddeye Guides.  This sort of list is interesting and useful in that it starts conversations about ships which require attention and could easily be overlooked.
There is at least one ship on the list, the barque Ellisa, that, while needing repairs, is in no danger of being ignored and is not "endangered" in any real sense.  This summer, it was found that a number of hull plates on the the 134-year-old barque had suffered serious electrolytic corrosion.  It is believed that the corrosion was a result of stray current from an underwater electrical cable broken by Hurricane Ike. The Fyddeye Guide noted that "the U.S. Coast Guard found severe hull deterioration and declared the ship unseaworthy, and thus unable to earn her keep."  The problem with this statement is that while, like the Star of India, the barque Elissa is sailed at least once yearly, she does not "earn her keep" from sailing.

The good news in all of this is that the Galveston Historical Foundation and its Texas Seaport Museum, which owns the Elissa, is run by highly competent and knowledgeable folks, backed by a legion of dedicated volunteers. Jamie White, the director of the Texas Seaport Museum is a master rigger with more than 30 years of experience in the historic sailing ship community. He directs a team of experienced ship preservationists. The museum's volunteers typically donate 30,000 hours per year to the Elissa's upkeep.
The museum, volunteers and the Galveston community are now on their way toward raising $3 million to repair the ship. To donate to the repair effort visit the the Galveston Historical Foundation or text ELISSA to 50555 on your cell phone to make a $10 donation. Drinking Saint Arnold's Elissa IPA can also help the ship.  The Saint Arnold Brewing Company, Texas oldest craft brewery, has named their Indian Pale Ale after the Elissa and is donating a portion of all the proceeds from the beer towards the repair of the the ship.
Elissa campaign on track to reach goal in 2012 
Thanks to Irwin Bryan for pointing out the article.