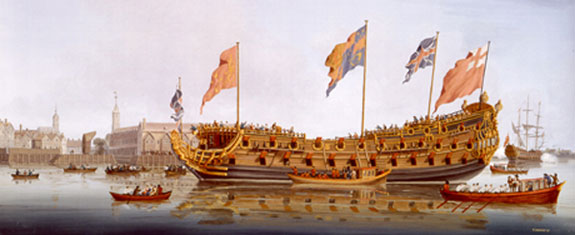 A very interesting, if ambitious, new project.  While we often focus on the Georgian Navy, the Royal Navy during the Restoration is fascinating it own right.  The Lenox Project hopes to build a replica of the Lenox, a 17th century warship in the restored dockyard at Convoys Wharf, the site of Deptford Dockyard, the first of the Royal Dockyards, in Deptford, on the River Thames in London.
The Lenox Project 

The Lenox was the first of King Charles II's great Thirty Ship building programme of 1677. Her construction and that of her sister ships was the responsibility of Samuel Pepys, famous diarist and Secretary of the Admiralty, and is extensively recorded in official records and artworks of the period. Thanks to painstaking research by marine historian and author, Richard Endsor – whose book The Restoration Warship covers the history of the Lenox in minute detail – it is possible to construct an exact replica.
To learn more click here.   Thanks to Alaric Bond for passing the word along.