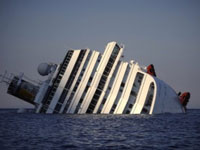 One of the more alarming aspects of the sinking of the Costa Concordia was the dramatic roll that the ship took after the grounding.  She is now sitting with a list of roughly 80 degrees with almost half of the ship flooded.  Passenger ships have been designed to avoid listing when damaged since at least the Lusitania in 1915, when longitudinal bulkheads which allowed flooding only on one side of the ship, accelerated the capsize and sinking.  The Costa Concordia however is in a different situation. She is resting on a rock ledge.  Once the ship was no longer floating but supported on rocks, she lost stability and rolled on the uneven bottom.
There is now concern that in deteriorating weather, the ship might slip off the ledge into deeper water.  Rescue efforts on the ship were suspended indefinitely today when divers heard noises suggesting movement.  Thus far, the recorded movements of the ship have been small but if the ship does sink in deeper water the environmental impact from the leaking of the ship's fuel tanks could be significant.  The Dutch salvage company, Smit Tak, has been contracted to pump fuel from the ship and begin salvage operations.
Cruise disaster: Costa Concordia slipping into the sea

Rescue operations on the capsised Italian liner were suspended indefinitely on Monday after the giant ship slipped on its rocky resting place, a firefighters' spokesman said.
"There was a slippage of nine centimetres vertically and 1.5 centimetres horizontally. We evacuated immediately. This is something we have been worried about," spokesman Luca Cari said.
"It has been our nightmare," Corrado Clini said. "The vessel has reservoirs full of fuel, it is a heavy diesel which could sink down to the seabed, that would be a disaster."
"It is definitely moving," an international salvage expert, who asked not to be named, told The Daily Telegraph.
"We think the hull has been pierced by a couple of pinnacles of rock but if it starts moving around a lot, it could break free, and that would be a big problem." The Italian fire service, which is spearheading search and rescue operations, also confirmed that the ship is shifting as a result of the worsening weather off the coast of Tuscany.