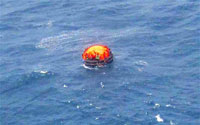 It is easy to focus of the plight of the 34 dead or missing from the Costa Concordia.  Regrettably, these casualties have not been the only recent deaths on the water. The past week has been particularly brutal with ship and boat sinkings in the Black Sea, off the Dominican Republic, Papua New Guinea and Dongting Lake in China.  A quick run-down of one grim week's loss of life:

January 31 –  Nine are dead and two are missing after a boat carrying seventeen people capsized in high winds on a tributary of the Dongting Lake, China's second-largest freshwater lake in Central China's Hunan province.
February 1 –  the Cambodian-flagged ship Vera sank in a storm in the Black Sea after it anchored off the coast of the Turkish town of Eregli. Three members of the 11-person crew were rescued. Eight are missing and presumed dead.
February 2 – the passenger ferry MV Rabaul Queen capsized and sank off the coast of Papua New Guinea. 246 were rescued and and at last 100 are missing.  Most are believed to have been trapped when the overloaded ferry capsized in high winds and seas.
February 4 – A home-built boat known as a "yola", carrying more than 70 illegal immigrants bound for Puerto Rico, sank off the Maria Trinidad Sanchez province on the northeastern coast of  Dominican Republic.  16 bodies have been recovered.  6 people have been hospitalized and an unknown number are still missing.
Let's hope this week is less deadly.  Thanks to Phil Leon for passing along the article about the Vera.