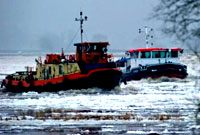 Pity the river boatman. Just a few months ago, a European drought lowered the water levels on many rivers and canals, significantly limiting barge and ship traffic.  The lower river levels also unexpectedly exposed un-exploded ordinance from  World War II.   In early December, half of the population of the German city of Koblenz was evacuated so that  several bombs that had emerged from the Rhine riverbank could be defused.
Now, the problem is intense cold, the coldest February across Europe in almost three decades, which has frozen solid hundreds of miles of Europe's busiest waterways.  Germany has shut the Rhine-Herne canal linking the river Rhine to Hamburg, Europe's second largest container port.  The closure canal has also cut off Berlin from the German inland waterway network.  A prolonged closure of the Rhine, Europe's busiest inland waterway, would quickly impact deep-sea port traffic and intermodal shipments. The river handles well over a million containers a year as well as iron ore, coal and grain.
Freeze Forces Germany to Close Key Shipping Artery

Sections of the 1,785-mile-long Danube, from Bavaria to Bulgaria, are also impassible due to ice. The Danube River passes through 10 countries and links Germany with southeastern Europe and Ukraine.  Ice floes on the river by the Serbian capital of Belgrade are currently up to half a metre thick and traffic on the country's 600km of waterway is shut down.  The Serbian military has been dynamiting the pack ice on sections of the river to address fears of flooding, that might result from a quick thaw.  No such thaw, however is in sight.  The cold snap, which began two weeks ago, could last until the end of February, according to some forecasters.
Even the canals of Venice have been blocked by ice.