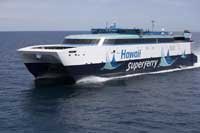 Pity the poor taxpayer.  The headline was short and simple - U.S. Navy Buys Hawaii Superferries.  For only $35 million dollars, the US Navy is buying two aluminum, high-speed, ro/ro ferries built for Hawaii Superferry for inter-island service in Hawaii.  The ferries were delivered in 2007 and 2009.  The company also filed for bankruptcy in 2009.  What a great deal!  The US Navy gets two almost new ferries that cost $190 million to build for only $35 million!  Yes, but not quite.  What is really happening is that one branch of the government is paying another branch of the government a notional sum to buy ships that the government  already owns.

The US Maritime Administration (Marad) has a loan guarantee program, known as Title XI, to encourage shipbuilding in the United States.   When the two Hawaii "superferries,"  the Alakai and the Huakai were built were built at the Austal US yard in Mobile, AL, their construction was made possible by $138 million of Title XI loan guarantees.  When Hawaii Superferry went bankrupt before even fully getting started, US taxpayers were on the hook for the full $138 million.
Now that the US Navy is "buying" the "superferries" from Marad, they plan on spending another $35 million to make them suitable for naval operations, making the real cost of the ferries to the taxpayer around $173 million.
The Title XI program has had a troubled history in recent years specifically related to projects involving Hawaii.  In 1999, American Classic Voyages, Co. led by billionaire Sam Zell, launched an ambitious expansion program.  American Classic Voyages had operated two old cruise ships in Hawaii and the river boat Delta Queen on the Mississippi.  The company acquired a cruise ship from Holland America Lines which it brought under the US flag, with Congressional permission to operate in Hawaii. American Classic Voyages also ordered two new cruise ships from Litton Shipyard for the Hawaiian service and acquired two coastal vessels, all supported by Title XI financing.  In a bit more than a year the company collapsed, filing for bankruptcy in October 2001.  Taxpayers paid over $310 million in load guarantees in the debacle.
In 2003, the Inspector General of the Department of Transportation investigated Title XI losses and recommened in part, "MARAD should require a rigorous analysis of the risks that arise from modifying loan approval criteria and, to mitigate those risks, should impose compensating provisions on the loan guarantee such as more collateral or higher equity contributions from the borrower."  One year later, Marad approved loan guarantees to Hawaii Superferry.
Since the 1980s the Title XI program has lost close to $3 billion in multiple loan defaults.
Government agency with a history of taxpayer losses keeps at it
Thanks to Phil Leon for passing along articles used in this post.
National Geographic Hawaii Super Ferry