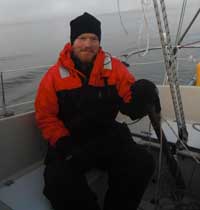 Matt Rutherford set out from Annapolis, Maryland last June 11th with an audacious goal. He intended to sail single-handed entirely around the Americas in a 27′ Albin Vega.  He planned to sail a counterclockwise loop up the East Coast, cross the the Arctic via the Northwest Passage, sail down the Pacific Coast of North and South America, around Cape Horn and then back north again to the East Coast of the US.  He has nearly made it. He is currently off the coast of Brazil. His problem now is that nearly everything on his boat is either broken or just worn out.  He is planning a resupply stop off Recife, Brasil and he could really use donations for new parts. Click the link below to learn more and/or make a donation.
Upcoming Resupply, Matt needs your help
From the Washington Post: Annapolis sailor on unprecedented, around-the-Americas odyssey
Thanks to Fernando Costa for passing the news along.