As Iranian saber-rattling raises tensions around the Straits of Hormuz, the US Navy has cancelled plans to decommission the 40 year old USS Ponce (LPD-15), an Austin-class amphibious transport dock ship.  Instead the ship is reported to be being refitted to operate as a "mothership" from which commando teams can operate.

Navy wants commando 'mothership' in Middle East
Or maybe not.  Some have suggested that It would not make sense to concentrate a number of the nation's most elite warriors on a ship in the Persian Gulf where they would be vulnerable to a variety of Iranian attacks and would require other vessels to protect the "mothership."   After the "commando mothership" story was widely reported, Fleet Forces Command commander Admiral John Harvey said that the Ponce is "not going over there as an alternate command ship; it's not going over there as a special operating force 'Death-star Galactica' coming through the Gulf…"  Instead, the revamped Ponce will serve as a "lilypad" for counter-mine Sikorsky MH-53 helicopters and patrol craft.
Transport Vessel Isn't Being Made SEAL Mothership, Admiral Says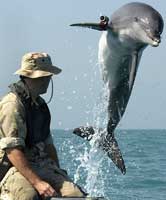 If mines need to be cleared from the Gulf, the Navy may be deploying more than just helicopters. There are reports that the Navy may use mine-detecting dolphins. The dolphins are trained to identify the underwater objects, including mines.  Once a mine is spotted by a dolphin, it drops an acoustic transponder nearby. Destruction of the mines is left to human divers.  "Dolphins – - which possess sonar so keen they can discern a quarter from a dime when blindfolded and spot a 3-inch metal sphere from 370 feet away — are invaluable minesweepers," reported The San Francisco Chronicle. 
The Navy Is Depending on Dolphins to Keep the Strait of Hormuz Open