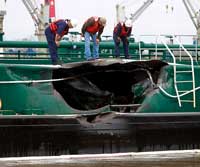 Three stories this weekend of oil spills, a successful oil transfer and opportunities lost in mitigating a spill.  Two barges collided on the Mississippi River on Friday upriver from New Orleans.  A roughly 3,500 barrel capacity double hulled tank barge suffered damage and was reported to have spilled an estimated 10,000 gallons (238 barrels) of crude oil into the river.  The Coast Guard closed a five mile stretch of the river on Friday but have begun to reopen it this morning. The spill is reported to be contained.

Removal of the oil from the bunker tanks on the Costa Concordia is going well according to Smit Marine. After several weeks of delay due to bad weather, the pumping began late last Sunday on the forward of 15 fuel tanks where 85% of the oil aboard the ship is stored.  The initial focus is on the six forward tanks which hold over 60% of the ship's fuel.  "Hopefully by the end of the week we will have the majority out," Bart Huizing, Smit's salvage master told The Associated Press in Giglio.
Captain Heath Smart, of Tauranga, New Zealand, comments on an oil spill response that didn't go well.  Last October, the container ship Rena, ran aground on Astrolabe Reef causing an oil spill   which has been described as New Zealand's worst maritime environmental disaster.  Captain Smart comments that "the Rena ran aground and assumed a modest list to port, and enjoyed perfect weather during the first five days and basically did nothing. (Although it is rumoured the crew had prepared to discharge the oil on the second day).  All her crew was on board, power supplies running, oil transfer pumps working, oil still warm, but was unable to discharge her fuel oil bunkers because there was not any vessel available to receive the oil."  Maritime NZ's bureaucratic response to the casualty resulted in a lost opportunity to limit the scope of the spill before the oil even reached the water.
Thanks to Phil Leon and Joan Druett for providing links for the post.   Joan's Wiki Coffin story Salt is featured in the April 2012, Alfred Hitchcock's Mystery Magazine.