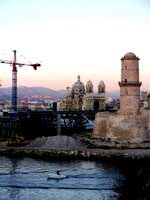 In November, we posted about how a drought on the Rhine River was exposing unexploded World War II munitions, and then in December about the evacuation of half of the German city of Koblenz, when several large bombs were found buried in the riverbank.
This morning, we understand that officials are evacuating 1,000 residents in an area near the French Mediterranean port of Marseille in order to remove a one ton German bomb dating from WWII which was uncovered last week by construction workers.
This is only the most recent unexploded WWII bomb discovered in Marseille. In December, a 250  kilogram American bomb, apparently dropped on the occupying Germans, was also discovered and defused near the old port.
Marseille clears port to remove 1-ton World War II-era bomb left by Germans

The regional government says the bomb's ignition system no longer works but the sheer amount of explosives — 1,400 pounds (650 kilograms) — made it dangerous.
The bomb was apparently buried by German soldiers, who had planned to destroy the city's port, as they retreated near the end of the war.